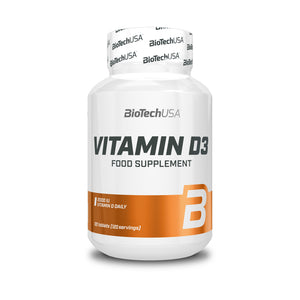 BioTech USA
Vitamin D3 - 1 x 60 tabs
Colli size: 12 x 60 tabs 

Tablets containing Vitamin D3, for special medicinal purposes.

More Info
50 µg (2000 IU) vitamin D
Economy pack
Easy to take
WHY VITAMIN D3 IS IMPORTANT?
It's a well-known fact that our body creates vitamin D from direct sunlight on our skin, so if you love sunlight and sunbathing you have a great advantage in fighting against vitamin D deficiency. During autumn and winter, there are fewer daylight hours, so in this period it's recommended to pay attention to the supplement of vitamin D intake. Great sources are saltwater fishes, cod liver oil, different dairy products and egg. BioTechUSA Vitamin D3 is also a great choice to supplement your vitamin D intake, because it contains 2000 UI vitamin D per serving.
Vitamin D plays an essential role in several physiological functions, among others contributes to:
The maintenance of normal bones and teeth and healthy muscle function
The normal absorption/utilisation of calcium and phosphorus
The normal function of the immune system
Vitamin D3 is recommended 
If you're looking for an easy to take product in tablet form
If you're looking for an easy solution to support your vitamin D intake
Ingredients
Bulking agent (cellulose gel), cholecalciferol, coating material [stabilisers (polyvinyl alcohol-polyethylene glycol-graft-co-polymer, polyvinyl alcohol), anti-caking agents (talc, mono- and diglycerides of fatty acids)], anti-caking agents (silicon-dioxide, magnesium salts of fatty acids).
Made in a plant that manufactures milk, egg, gluten, soy, crustaceans, sulphur dioxide and nuts containing foods.
| | | |
| --- | --- | --- |
| Supplement Facts | | Servings per Container: 60 |
| | 1 tablets | NRV** (1 tablets) |
| Vitamin D | 50 μg (2000 IU) | 1000% |
**Nutrient reference value for adults.
---
More from this collection