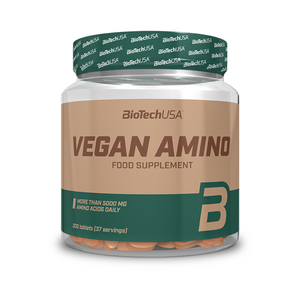 BioTech USA
Vegan Amino - 1 x 300 tabs
Colli size: 10 x 300 tabs 

Food supplement tablets containing amino acids for vegan needs.

More Info
Environment protection, health consciousness, animal protection...
There are many reasons why more and more people are following a diet free of food of animal origin or trying to reduce their meat consumption. If we create a proper, balanced meal plan free from animal-derived ingredients, then it won't have any negative effects on reaching our fitness goals (e.g., body building).
Vegan line of BioTechUSA offers you protein bars, amino acids, protein powders and multivitamins, too. They can be an ultimate partner, if you have a vegan or vegetarian lifestyle! And on the other hand, you can also try them, if you need vegan food supplements occasionally.
Contains amino acids from different sources
Contains 5050 mg of amino acids in a daily serving
Contains glutamine peptide
Even by a well-planed vegan diet, it is useful to supplement amino acid intake regularly. Between main courses or during trainings, a complex product containing all amino acids, which help the growth of muscle tissues, might be a good choice.
Vegan Amino is recommended
If you are looking for a food supplement in a tablet form
To supplement a vegan meal plan
Ingredients

Bulking agent (cellulose gel), glutamine peptide (contains wheat), soy protein isolate, pea protein isolate, coating [stabilisers (polyvinyl alcohol-polyethylene glycol- graft-co-polymer, polyvinyl alcohol), anticaking agents (talc, mono- and diglycerides of fatty acids), colour (iron oxides and hydroxides)], instant L-Leucine (L-Leucine, emulsifier: lecithins), L-Glutamine, anti-caking agents (magnesium salts of fatty acids, silicon dioxide), L-Isoleucine, L-Valine. Made in a plant that manufactures milk, egg, gluten, soy, crustaceans, sulphur dioxide and nuts containing foods.
This product is suitable for vegans.
Supplement Facts

Daily Amount: 2x4 tablets

Servings per Container: 37


in 4 tablets
in 8 tablets
Amino acids

1925 mg

3850 

mg



- from glutamine peptide


1372 mg


2744 

mg



- from soy protein isolate

283 

mg



566 

mg



- from pea protein isolate

270 

mg



540 

mg



L-Leucine

200 mg

400 

mg



L-Glutamine

200 

mg



400 

mg



L-Isoleucine

100 

mg



200 

mg



L-Valine

100 

mg



200 

mg



Total amino acids

2525 mg

5050 mg

---
More from this collection