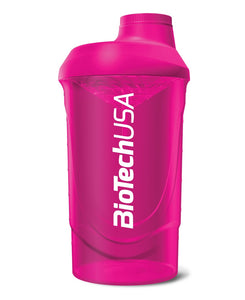 BioTech USA
Shaker Wave Magenta - 1 x 600 ml
Colli size: 48 x 600ml
Shaker bottle for protein shakes and other drinks that needs shaken.
More info
Ideal for all types of mixdrinks
No waterleakage, twist-on cap and lid
Arched screen to avoid lumps
Graded scale in ml and oz
Manufactured of high-quality polypropylen pp
Break-proof, dishwasher-, micro-wave- and refrigerator-safe
Bpa free, non-toxic plastic
Conforms to food regulations
European made plasticware
In the production of the cap and lid a softer type of plastic was used. The result is a perfect fit between the screw cap, lid and the bottle. This unique innovation completely prevents water leakage.
Shake more effectively
We developed an arched screen, which leads to a more effective blending ability of the shaker. The higher efficiency of the shaker is due to the larger surface of the screen and therefore the higher rate of flow of the liquid across the screen.
Our shaker bottles are comfortable to drink from. The cap is not connected with any additional plastic piece to the lid.This prevents any nose or forehead disturbances while drinking.
---
More from this collection