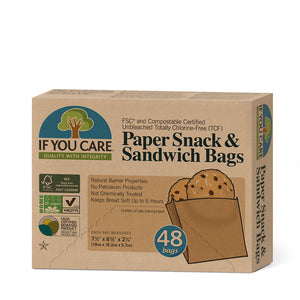 IF YOU CARE
Paper Snack & Sandwich Bags 12 x 48 bags
Made in Sweden from unbleached pulp of Scandinavian spruce trees – a natural, renewable resource – If You Care Snack and Sandwich Bags are greaseproof and provide a natural barrier making the bags ideal for nuts, potato chips, cookies, and sandwiches that use butter, mayonnaise or oil. The bags are also suitable for use in the microwave. If You Care Sandwich Bags are uncoated, they are not treated with petroleum-based paraffin wax, soy or any other type of wax.
    Like all If You Care paper products, these snack and sandwich bags are totally chlorine-free, so no chlorine or chlorine derivatives are dumped into our lakes, rivers and streams.
Each bag measures: 19 x 16,2 x 5,7 cm
One package contains 48 bags.
Kolli: 12
Materials:
Paper from FSC-certified forests, Unbleached totally chlorine-free (TCF), Made from Scandinavian spruce trees, Natural barrier - not chemically treated, No petroleum products
Packaging: 100% recycled unbleached cardboard, non-toxic glues and inks.
---
More from this collection