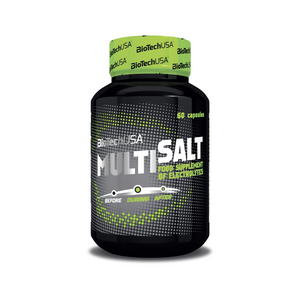 BioTech USA
MultiSalt - 1 x 60 tabs
Colli size: 12 x 60 tabs
Salt capsules with electrolytes for endurance sports.
More Info
292 mg salt per capsule
Maintains electrolyte balance*
Effective salt supplementation
Reduces the risk of cramps**
Convenient, easy-to-dose capsules
No preservatives
Gluten-free
Lactose-free
THE INDISPENSABLE SALT
During prolonged, extreme endurance activities (e.g. ultramarathon, triathlon, pentathlon, ultrarunning) you lose a lot of water, salt and minerals, especially in hot weather. From among minerals, your body mostly loses sodium and chlorine, as well as magnesium to a lesser extent. Although water rehydrates your body, it cannot, in itself, supply the basic salts required for the balance of your body, which may affect electrolyte balance. Therefore, it is especially important to supplement electrolytes quickly and effectively during physical activity.
MULTISALT: QUICK AND EFFECTIVE SALT SUPPLEMENT
MultiSalt contains four ingredients in one capsule: sodium, magnesium, potassium and chloride. *Magnesium contributes to maintaining electrolyte balance and reducing tiredness and fatigue, as well as to normal energy-yielding metabolic processes. **Potassium and magnesium contribute to normal muscle function. Thus, it will not only refresh you quickly, but it can also reduce the risk of cramps, and you can say goodbye to sluggish exercise.
Keep your salt capsules on hand to make your victory sweet.
MultiSalt is recommended
As an excellent source of electrolytes for extreme needs, to replenish salts lost during intense sweating
As a useful supplement for prolonged activities, even in extreme climates
To prepare your own electrolyte-carbohydrate solution
Ingredients
Sodiumchloride 26.2%, magnesium oxide 26%, potassium chloride 25.6%, maltodextrin, capsule shell [gelatine,glazing agent (shellac), colour (iron oxides and hydroxides), acidity regulator (ammonium hydroxide), acidity regulator (potassium hydroxide)], calcium salts of orthophosphoric acid, anti-caking agent(silicon dioxide).
Made in a plant that manufactures milk, egg, gluten, soy, crustaceans, sulphur dioxideand nuts containing foods. WARNINGS: Keep out of reach of children. Food supplements do not replacea balanced nutrition and healthy lifestyle. Not recommended for people with medical condition and/ortaking medications.
Supplement Facts

Serving size: 1 capsule

Servings per Container: 60


1 capsule

NRV** (1 capsule)
Sodium

115 mg

***

Magnesium


175 mg


47%

Potassium

150 mg

8%

Chloride

313 mg

39%

**Nutrient reference value for adults.
---
More from this collection