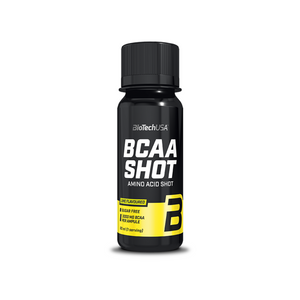 BioTech USA
BCAA Shot - 1 x 60ml
Colli size: 20 x 60ml 

Dietary supplement shot with vitamins and sweeteners.

More Info
With 3000 mg of BCAA in a 2:1:1 ratio per ampule
With added L-arginine
With vitamins B6 and B12
Sugar-free
If you love practical and compact solutions and prefer similar products during your workouts, then you definitely find your new favourite amino acid formula!  Grab one and take it with you in your bag or pocket (yes, it fits in there, too) and consume instantly without shaker and water!
BCAA Shot is recommended
For men and women
If you prefer 'shot-like' products to tablets, capsules and drink powders
If you are looking for a ready to drink product containing BCAA
It's practical before any workouts or during endurance trainings, such as cycling
Ingredients
Water, 5.83% Amino Acid Complex [5% BCAA (L-leucine, L-isoleucine, L-valine), 0.83% L-arginine], acid (citric acid), flavour, sweeteners (acesulfame-K, sucralose), pyridoxine hydrochloride, cyanocobalamin.

Supplement Facts

Daily Amount: 1 ampule = 60ml

Supplement Facts


60ml






L-Leucine


1500 mg


***
L-Isoleucine
750 mg

***
L-Valine
750 mg

***
L-Arginine

500 mg

***
Vitamin B6

1,4 mg

100%

Vitamin B12

2,5 μg

100%

**Nutrient reference value for adults.
---
More from this collection